How an Executive Master of Health Administration Can Benefit Your Career
The Executive Master of Health Administration (Executive MHA) program at the Telfer School of Management is the first and only program of its kind in Canada. It uniquely intersects healthcare and business management, providing a wide range of career growth opportunities in health administration for its graduates. If you hope to gain the skills and knowledge needed to take on leadership positions in government-led health agencies and initiatives, pharmaceutical companies, hospitals, and non-profit roles, an Executive MHA from Telfer opens these doors and many more!
Discover how an Executive MHA at Telfer can positively impact your health management career in a number of leadership positions.
Hospital Administrator
Hospital administrators take on a wide and varying range of responsibilities, from financial sustainability to operational organization, to ensure a high standard of patient care and safety. This job is collaborative in nature, often requiring department oversight, filling management positions, and working with personnel to create efficient systems at a hospital.
Telfer's online Executive Master of Health Administration degree is uniquely designed to help you thrive in a hospital administration setting. By synthesizing healthcare-specific courses with foundational business management tools, the program equips you with the strategic mindset required to effectively lead in every aspect of your career.
This program will enable you to develop a comprehensive understanding of both healthcare management and organizational leadership, with courses that cover financial management, human resources, project management, patient safety, and more. As the healthcare industry continues to evolve and innovate, the Telfer network of educators and alumni will serve as valuable resources to help you lead as an administrator.
Health Agency Executive Director
The Canadian healthcare system offers many opportunities for health management leaders, including those at a health agency. Jobs can range from overseeing provincial and territorial health agencies to operating in a specific sector, such as emergency services, public health initiatives, or senior care.
As with most government jobs, serving as the executive director of a health agency will require a firm grasp on organizational leadership, policy, and power structures in order to lead effectively. After earning Telfer's online Executive MHA degree, you will have developed essential leadership skills to successfully manage Canadian health agencies, even in the midst of ongoing economic, societal, and technological changes.
Through in-depth study of healthcare systems around the world, you will learn how to evaluate the societal, economic, and political implications of healthcare policy and navigate the Canadian system with confidence, especially as it relates to the interactions between federal and provincial systems.

Chief Operating Officer
The Executive MHA degree at Telfer also provides excellent opportunities in the private sector, such as chief operating officer (COO) or operating director roles in both healthcare systems and pharmaceutical companies. Generally, COO positions focus on internal operations, consisting of the management of multiple departments and its respective employees, project management, and operational strategy. COOs will also consider innovations that move the organization forward, ensuring best practices and financial success.
The online Executive MHA degree at the Telfer School of Management will provide you with expertise in a wide range of areas that intersect with COO roles, including technology, leadership, management, business development, and policy knowledge. These courses build the skills required to balance countless details and big-picture leadership with ease. While the majority of this degree is taught online, an in-person capstone experience will provide you with a valuable interactive experience that teaches you how to manage these many complex areas in the field.
As the Canadian healthcare industry undergoes continual shifts, Telfer Executive MHA graduates have a vast and valuable network of academics and fellow alumni to guide them as effective leaders for years to come. COOs are often tasked with sourcing new ways of providing healthcare to keep up with industry standard and best practice, and a well-resourced community is an unparalleled asset in these ventures.
Health-Focused Charity Executive Director
Nonprofits and healthcare charities are often looking to hire Executive Master of Health Administration graduates, knowing that these individuals are ready to lead their organizations effectively. As the executive director of a healthcare-focused charity or nonprofit, the role needs an individual who can oversee day-to-day operations and strategize about how to launch large initiatives and raise funding.
Most healthcare charities are built around a specific population or health concern, from cancer or diabetes to mental health or elder care. An EMHA from Telfer prepares its graduates for success as well-rounded strategic leaders in their sector of healthcare. By learning valuable skills in programming, financial operations, and project management, EMHA graduates can seamlessly transition into strategic roles like these, creating a lasting positive impact in their communities.
Director of Telehealth
As telehealth becomes a more prominent sector in Canadian healthcare, qualified administrators with technological expertise are in high demand. Telehealth directors improve internal processes and programs, ensure their organizations are meeting medical and technology standards, and establish relationships with patients and providers alike.
The Telfer EMHA program offers extensive coursework about healthcare technologies and innovations that prepare students to excel in this ever-growing field. Graduates will serve as information technology experts to support this new system of healthcare. By developing the ability to sift through complex processes and data points, directors of telehealth can lead Canadian healthcare into innovative new technological capabilities.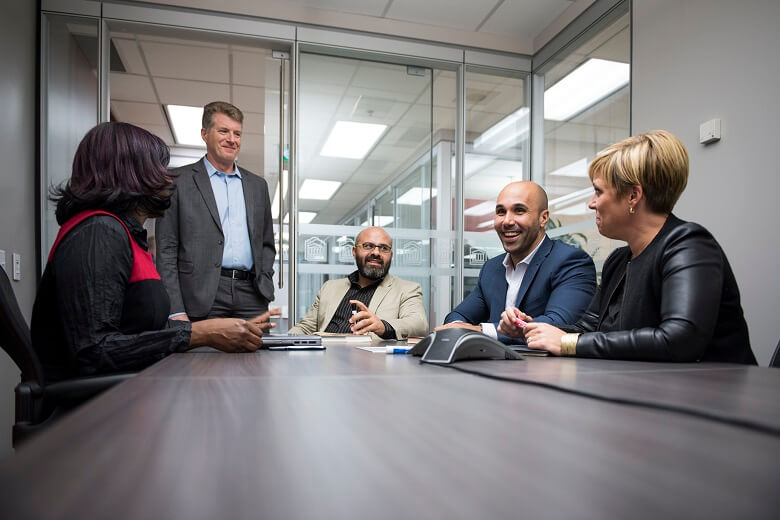 Discover the Telfer School of Management difference through the online Executive Master of Health Administration
At Telfer, we are committed to educating our students to lead effectively in a wide variety of healthcare settings. The tools and skills provided here will ensure that our graduates are ready to meet any challenges that arise and are up-to-date with best practices, current trends, and effective strategies.
The Telfer Executive Master of Health Administration is designed for working professionals, offering advanced courses tailored to your specific sector to guarantee that you'll be a well-rounded leader in the future of healthcare. Courses will cover healthcare systems and policy, human resources and leadership, business and financial management, information technology and data analytics, healthcare-specific innovation and strategy, and more. The flexible coursework schedule, combined with an unmatched network of educators, professionals, and alumni, prepares each student to improve their future organizations and lead the healthcare industry into a better tomorrow.
Learn more about Telfer's online Executive Master of Health Administration program.