Online Telfer Executive Master of Health Administration
The online Telfer Executive Master of Health Administration (Telfer EMHA) at the University of Ottawa's Telfer School of Management (Telfer) is the first and only program of its kind in Canada that uniquely intersects healthcare and business management. It leverages your professional experience and prepares you to succeed as a strategic, well-rounded leader in healthcare.
The program is designed to cultivate the essential health systems and management fundamentals needed for today's healthcare executives to succeed. Its strong emphasis on data, technology, innovation, leadership, and policy knowledge builds advanced and highly relevant skills to help you keep pace with the regulatory landscape and health sector trends. The online Telfer EMHA prepares you to be an effective leader today and to meet tomorrow's demands in the ever-changing world of healthcare, from both a Canadian and global perspective.
Students will complete the majority of their coursework online. However, as part of the capstone course, students will attend the capstone campus experience, the culmination of your Telfer Executive MHA studies. For one week on campus, along with your peers, alumni, faculty, and sponsors, you will become immersed in an interactive learning experience.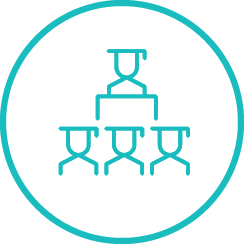 Alumni network of industry leaders and faculty

Located in the heart of Ottawa,
a thriving healthcare hub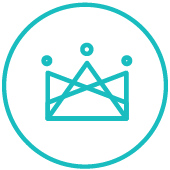 Triple-Crown Accredited
Admission Requirements
A baccalaureate degree from a Canadian school or its equivalent (A Minimum average of 70% (B))
A Minimum 5 years of management-related work experience
2 professional letters of recommendation (one must be from a direct supervisor)
Letter of Intent
Harvard Online Math Module: Achieve a min. of 75% in the required Harvard Module
Learn at the Intersection of Healthcare and Business
The online Telfer Executive MHA program is intentionally designed to combine advanced, healthcare sector-specific courses with business management foundations. You will build finance, business, and evidence-based decision-making skills specific to healthcare administration and learn strategies to lead and manage change and innovation.
Constant healthcare innovation and technology changes require expert knowledge and a network of peers for best practice sharing. Telfer's online Executive MHA connects you to an accomplished network of influential alumni and educators with vast knowledge and experience, just like you. The program develops your thinking beyond organizational boundaries so that you can lead, evaluate, and improve within your organization.
The Telfer School of Management has formed a Health Programs Advisory Board consisting of representatives within the broader health care system. The Advisory Board works with the Vice-Dean of Graduate Professional Programs, the Director of the MHA and Executive MHA programs, and the Telfer Executive Programs Director, with the mandate to ensure relevance in course content and delivery mechanisms as it seeks to grow its influence in professional health care management education, and support linkages with the health care organizations community. At the Telfer School, we believe that the changing landscape of health care and new challenges require expert knowledge from skilled leaders for effective best practice sharing and successful health care management. Together with the Health Programs Advisory Board, we can contribute to a healthier Canada for all.
Innovation and Change in Healthcare
You will develop the readiness to lead and successfully manage change amid economic, societal, political, and technological shifts in healthcare.
Examine elements of organizational behaviour and change in the healthcare context, including group dynamics, motivation, stress management, power structures, and negotiation  
Explore current developments, issues, and challenges in the emerging field of health informatics, with an emphasis on the role that technology plays in healthcare transformation initiatives and transformation
Assess the current and future supply of human resources, including recruitment, retention, and development strategies to meet changing workforce conditions

Explore innovative tools and approaches for quality improvement in health care organizations
Leadership and Management
You will develop a well-rounded skill set for key aspects of healthcare management and organizational leadership.
Develop skills in program evaluation and project management, including the project life cycle
Assess key theories and concepts related to patient safety, performance management, evidence-based management, and quality improvement strategies
Build a foundation in financial healthcare management
Explore major issues unique to human resources management in healthcare
Information Technology and Data Analytics
You will learn about relevant technologies and apply quantitative methods and data analytics to make informed organizational decisions and improvements.
Explore timely topics related to the application of information technology in healthcare and the role these technologies play in improving, transforming, and supporting the delivery of healthcare
Understand the factors that affect the adoption of information technology and learn about the tools and frameworks that can be used in the implementation and evaluation of information technology in health care settings
Develop the ability to interpret large amounts of data and draw sound implications for healthcare issues using analysis and data modelling skills
Use various quantitative methods to provide insight and support for complex decisions
Healthcare Systems and Policy
Within a comparative context of systems around the world, you will learn how to navigate the Canadian health system from policy, ethical, and quality standpoints.
Explore the history and evolution of the Canadian healthcare system, particularly the relationship between federal and provincial systems
Compare and contrast Canadian healthcare in a global context
Evaluate the societal, economic, and political forces that influence healthcare policy
Examine the interdependence of strategy, governance, and ethics as they relate to organizations and systems
Explore key economic concepts such as microeconomics, trade-offs, opportunity costs, efficiency, and equity as they pertain to the unique realm of healthcare