What Do Health Administrators Do?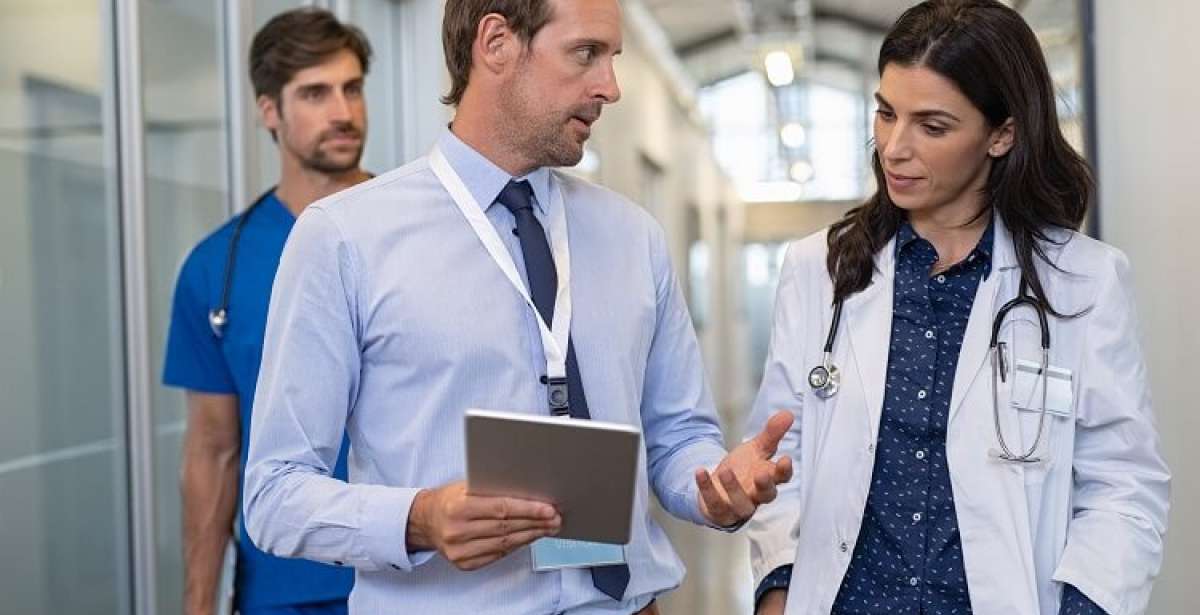 We know that doctors and nurses work directly with patients to improve their physical well-being, but what do health administrators do?
Rather than interacting with patients on a daily basis, health administrators work to ensure positive patient outcomes, improve efficiencies, and foster a positive work environment through leadership, management, and operations.
Health administration professionals often work in roles like clinical director, hospital administration lead, or director of nursing. With time and experience, they may even rise to higher executive leadership roles such as chief administrative officer or chief operations officer within a health care organization.
Whether a health administration professional is a department head, director, or executive leader, their roles will require healthcare knowledge, a solid understanding of information technology and its role in the healthcare space, and honed business skills.
Consider what a day-in-the-life of various healthcare administrators may look like, and how these various skills are utilized continually, as we answer the question: what do health administrators do?
Roles in Health Administration
While hospitals or private practices may be the first places that come to mind when it comes to where a health administrator may work, those organizations are just two of the many settings where you may find a health administration professional.
Workplaces for these professionals include:
Hospital systems

Private practices

Pharmaceutical companies

Government-subsidized long-term care facilities

Health departments
Each of these workplaces need skilled, executive-level leaders who are able to lead teams in areas such as:
Navigating the Canadian health system from policy, ethical, and quality standpoints

Prioritizing patient safety, strategic planning, and financial stability through organizational leadership

Analyzing data and leveraging information technology for healthcare problem-solving and decision-making

Handling changes within teams, organizations, and cultural norms in healthcare
While the specific tasks will vary, health administrators will utilize these skills at the intersection of healthcare and business on a daily basis.
Healthcare Systems and Policy
Part of the role of the healthcare administrator is understanding how their organization fits into the provincial and federal systems in Canada. Health administration professionals need a solid foundation in the history and evolution of the Canadian healthcare system. They also benefit from the the ability to compare and contrast Canadian health care within a global context, which empowers them to perform in roles such as:
A hospital executive overseeing the implementation of a new legislative policy throughout their organization's departments

The owner of a private practice determining their marketing strategy in light of the knowledge that some populations have historically been privileged over others when it comes to access to quality healthcare

Pharmaceutical company leaders planning the rollout of a new drug across several provinces with varying requirements

Long-term care facility executives establishing standards regarding ethical delivery of care to patients with limited cognitive capacities

NGO or government health agency officials strategically planning program delivery during a season of societal or political shifts
Healthcare administration executives are key players in both responding to and creating change in the broader culture as they make decisions at the intersection of strategy, governance, and ethics in healthcare.
Organizational Leadership
Healthcare executives are called upon to plan and implement programs and projects, design and oversee budgets, and manage their teams, departments, or organizations in ways that promote patient safety and positive outcomes. Whether they work within a hospital, private practice, pharmaceutical company, or elsewhere, health administrators manage performance, programs, and projects through roles such as:
A senior hospital officer developing, explaining, and implementing an annual budget based on data from years past, present needs, and future goals

A doctor in private practice recruiting office staff according to company needs and an awareness of team dynamics, personalities, and collaboration styles

The leader of a pharmaceutical company working with key sales professionals to establish sales goals, determine key performance indicators, and measure results

A long-term care facility director leading their organization through a planned expansion by skillfully navigating the phases of the project lifecycle

An NGO or government agency leader reviewing past programs in order to identify and communicate opportunities for quality improvement in upcoming programs
Through skilled planning and management, health administrators lead their teams, departments, and organizations effectively.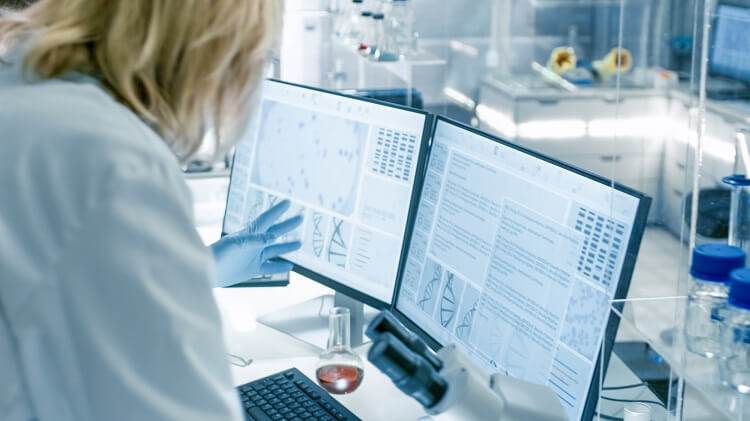 Data Analysis and Information Technology
From storing and studying patient information to planning work schedules, data analysis has become an important role in the work of the health administrator. Here are just some of the ways that data analysis may be part of the health administrator's role:
The chief administrative officer of a hospital system may increase efficiency within their hospital by designing an operating room scheduled based on patterns and trends shown in data that covers the past year of surgeries

A doctor in private practice could reduce staff hours spent on manual budgeting and reporting by implementing a data-analysis solution that frees up staff members for other tasks

Leaders of pharmaceutical companies can use data analysis to identify and target specific patient populations in need of treatment

The health administration executive of a long-term care facility may study the electronic health records of patients in their facility to determine where resources and staff hours can be best spent

A senior-level official within a non-profit organization or government agency could use data analysis and health informatics to determine populations most in need of services, identify the most crucial services, and aid in service delivery
By understanding and leveraging data analysis, health administration professionals can improve patient outcomes and make informed decisions that benefit their organizations.
Change Management
If there is one thing that can be counted on in the healthcare industry, it is that change is common. As technology expands the possibilities for medicine, cultural shifts influence personal expectations of medical providers, and healthcare providers struggle with burnout in the wake of a global pandemic, leaders in healthcare administration are called upon to lead in times of change.
Rather than merely reacting to new circumstances, skilled leaders in health administration know how to plan, communicate, and act both before and during changes as they occur. This may look like:
The chief administrative officer of a hospital identifying and implementing a stress management strategy for the healthcare providers in their system

A private practice doctor studying ongoing developments in the field of health informatics and hosting patient education sessions to inform her patients of the shifts in how their health information is stored, used, and analyzed to their benefit

Pharmaceutical company executives proactively implementing morale-boosting programs for employees experiencing stress and exhaustion resulting from the pandemic's effects on their day-to-day work

A long-term care facility director establishing a recruitment and retention strategy in light of shifting workforce conditions and the rising generation of potential employees

The leader of an NGO or government health agency keeping their organization's staff members aware of forecasted economic shifts and how the organization could be affected and will weather the change
With skills and expertise in healthcare systems and policy, organizational leadership, data analytics and information technology, and change management, health administrators lead organizations to meet the demands of a rapidly changing world.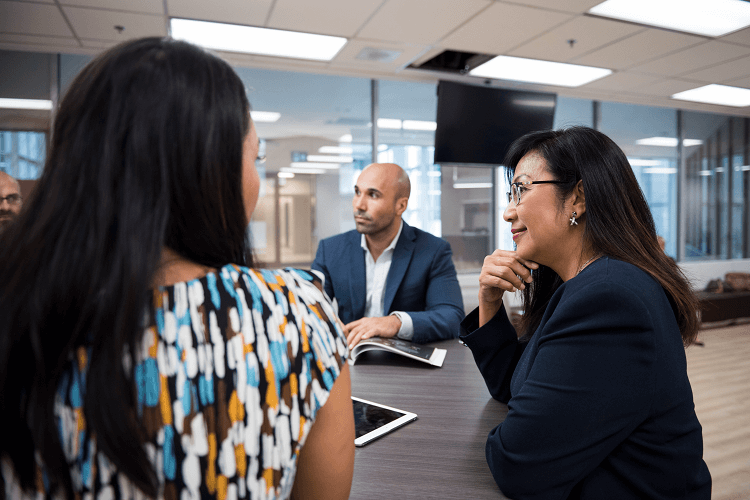 Reach a new level in your healthcare career
Are you interested in leading healthcare organizations to greater heights as a senior-level executive? Do you want to manage departments or organizations, plan for the future, and be part of innovation in healthcare? If so, the University of Ottawa's Telfer School of Management online Executive Master of Health Administration (Telfer Executive MHA) was designed specifically for professionals like you.
In just two years of online courses and one week on campus, experienced professionals can gain the skills and industry knowledge they need to become leaders in health administration. The program's coursework emphasizes four key themes that directly correlate to the real world:
Healthcare Systems and Policy

Leadership and Management

Data Analytics and Information Technology

Innovation and Change in Healthcare
As the only online degree of its type, the online Telfer Executive Master of Health Administration (Telfer Executive MHA) program offers students an unparalleled opportunity to learn, grow, and prepare for the future of their careers. Accredited by AACSB, AMBA, and EQUIS — a triple-crown recognition that only 1% of global business schools attain. In addition to these accolades, the online Telfer Executive MHA program also features:
The flexibility of online learning

Connection to a network of peers, alumni, and faculty

A capstone campus experience defined by immersive, interactive learning
Students in our program benefit from expert level, industry-informed faculty who have been drawn to the Telfer School for its academic excellence and reputation of preparing executive students to succeed — students like Anne Marie Parent.
Now the Manager of Governance and Strategy for the Canadian Institute for Health Information, Parent is a graduate of the online Telfer Executive MHA program at the University of Ottawa. Among many other positive outcomes, Parent recalls that the program grew her understanding of how governance models impact individuals, how management works within the public sector, and how to navigate decision-making when facing ethical dilemmas.
Just like Parent, you can gain the practical, marketable skills you need to become a leader in health administration. We invite you to learn more about Telfer's online Executive Master in Health Administration degree.