Famous Women in Engineering: How Far We've Come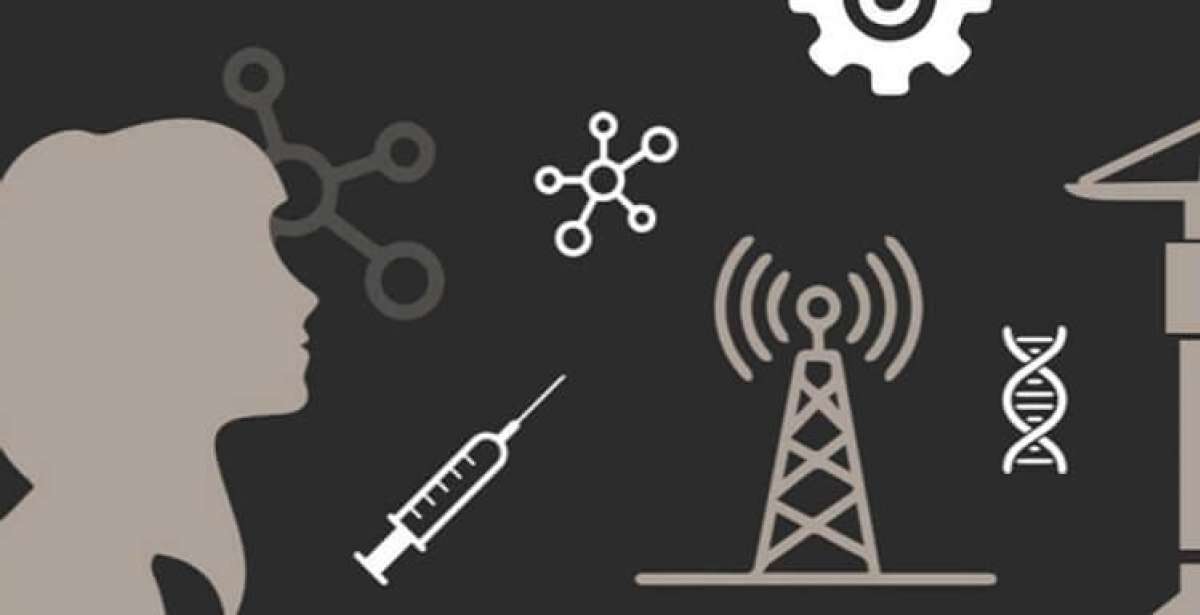 From aircraft to academics and automobiles to archaeological analysis, women in engineering have made indelible marks in the field. Our modern age brims with possibilities for female engineers who have greater access to career pathways than women ever have. Looking back on the women who carved those pathways and began to normalize the presence of women in engineering can help the women of today who are considering an engineering career to feel empowered, see themselves represented, and imagine their own futures.
Learn More About uOttawa's Online MEM Program
In this post, we'll first take a look back at the past through the stories of famous women in engineering. We'll then discuss the present landscape of the engineering field in Canada and what it looks like for women. And, finally, we'll peer into the future through the lens of grants, scholarships, and conferences for women in engineering.
Let's get started by taking a look at some famous female engineers through history, both in Canada and around the world.
Famous Female Engineers
Elsie MacGill
In 1927, Elsie MacGill became the first Canadian woman to receive an electrical engineering degree. The Canadian Encyclopedia notes that when MacGill completed her master's degree in aeronautical engineering just two years later, she effectively became the first female aeronautical engineer in the world. While healing from a bout with polio, MacGill "drafted aircraft designs and wrote articles on aviation for popular publications like Chatelaine."
MacGill worked as an assistant aeronautical engineer at Fairchild Aircraft Ltd. in Quebec from 1934–1938. While there, she "worked on a variety of aircraft designs and forged important professional ties with the aeronautical staff at the National Research Council of Canada in Ottawa, Ontario. She also showed her bravery by insisting on going up on dangerous test flights to monitor the performance of her designs."
In 1938, MacGill became the chief aeronautical engineer at Canadian Car & Foundry in Ontario, where she became the first woman to design and produce an aircraft. MacGill also oversaw "the first successful winterization of a high-speed aircraft," was the first woman to be admitted to the Engineering Institute of Canada, and eventually founded her own consulting engineering company. 
Ursula Franklin
Physicist and educator Ursula Martius Franklin overcame tremendous challenges in her personal and professional journey. Namely, while Franklin was attending university in Berlin, she was forced into a Nazi work camp because her mother was Jewish. After her release, Franklin remained in Berlin to achieve a doctorate of philosophy in experimental physics. She then emigrated to Canada.
Franklin pioneered the development of archaeometry, which is the field of applying science and engineering techniques to archaeological analysis. "She studied metals and alloys and contributed to numerous important advances of the time, including the world's first porous-coated skeletal hip-implant design," wrote Doug D. Perovic in Franklin's obituary for Physics Today. Perovic also described Franklin's dedication to research, pacifism, and activism as extensions of her engineering career.
"As a Quaker and a devout pacifist, she was moved to investigate whether radioactive isotopes produced by atmospheric weapons tests were being absorbed by humans in detectable quantities. Working with the peace group Voice of Women, Ursula approached family, friends, and colleagues to collect numerous baby teeth. She and her coworkers detected large quantities of strontium-90, which has been shown to significantly increase the risk of blood and bone cancers. Their findings contradicted the theory that radioactive fallout from weapons tests remained in the upper atmosphere. That work led to the 1963 Partial Nuclear Test Ban Treaty— signed by 135 countries—which outlawed nuclear detonations on land, in the atmosphere, and in space."
Monique Frize
Now a biomedical engineer and professor, Monique Frize became the first woman to graduate from the University of Ottawa in 1966 with a Bachelor of Applied Science. A clinical engineer for 18 years, Frize became an expert in the field of biomedical engineering.
Much of her work has focused on medical technology and tools. For example, Frize's "research has helped to develop tools to detect complications in preterm infants and to develop a technique that uses an infrared camera to detect the presence of arthritis."
Frize has written numerous scholarly articles, papers, and books, including The Bold and the Brave, which details the history of women in science and engineering.
Stephanie Thompson
A currently-practicing engineer, Stephanie Thompson led the engineering team that launched the Gen V Engine assembly line at General Motors. Thompson launched Women in STEM Experiences (WISE) in 2019, "a series of workshop experiences aimed at breaking down STEM (Science, Technology, Engineering and Math) barriers for women."
"'Historically, the percentage of women with careers in STEM fields is significantly lower than that of men,' said Thompson," wrote Ray Spiteri in "Workshops to inspire females to pursue science, technology careers" at St. Catharines Standard. "'The WISE workshops are designed to empower women to explore technical subjects such as robotics, engineering and science in a fun, supportive setting.'" In December 2020, Thompson was named one of Canada's Most Powerful Women: Top 100 Award Winners by WXN.
What's the Landscape for Women in Engineering?
According to "Women engineers needed across the globe," at International Women's Day, "Recent years have seen many organisations around the world launch campaigns and initiatives aimed at increasing the number of women entering engineering. Yet, still more women are needed the world over - many more!"
Women only make up about 18% of newly licensed engineers in Canada, according to Engineers Canada. The organization has a goal of 30% female representation in the Canadian engineering field by 2030. According to Engineers Canada, "Thirty per cent is universally understood as the tipping point for sustainable change—reaching 30 by 30 will tap into the entire engineering talent pool as more and more women continue to enter the profession."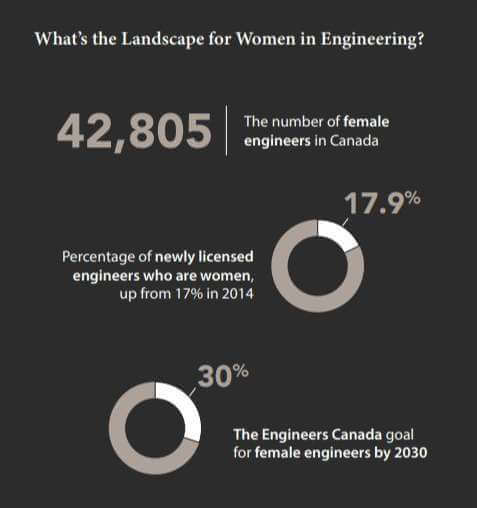 According to "Attracting and engaging women in Canadian manufacturing," a summary paper from Canadian Manufacturers & Exporters, "Women represent a vast and relatively untapped resource that offers a solution" to the problem of "chronic labour and skills shortages" in Canadian manufacturing. Similarly, "Demand for 100K engineers over next ten years in Canada," at EDI Weekly names female engineers as a key factor in addressing a skills gap, expanding economy, and retiring workforce. 
Career Opportunities and Average Salaries for Canadian Engineers
Canada's growing economy has a range of opportunities for women in engineering and women in engineering management. Let's take a look at some of the titles, job outlooks, and correlating salaries.
According to the Job Bank, the Canadian job market should have roughly 18,900 new openings for civil engineers between 2019–2028. The Economic Research Institute (ERI) lists the average salary of civil engineers in Canada as $99,446. Design engineering managers earn approximately $136,396 per year, according to ERI. The Job Bank says that the job prospects for engineering managers over the next three years is good, due to employment growth and openings caused by retirements. 
Additional positions and salaries* include:
Structural engineer: $102,130
Manufacturing engineering manager: $135,377
Mechanical engineer: $109,793
Mechanical project manager: $110,287
IT software engineer: $113,224
Chemical engineer: $115,854
Chemical engineering manager: $144,474
Electrical engineer: $119,743
Electrical engineering manager: $167,626
Petroleum engineer: $160,801
*Source: Economic Research Institute
Celebrating Women's Achievements
Women have made tremendous advances in the labour force over the past few decades. While there's still great progress to be made, today's women can draw strength and fortitude from the stories and accomplishments of women who have gone before them. The Royal Bank of Canada reports that:
Women earn 42% of total Canadian household income, up from 25% in 1976.
Working-age women boast a collective net worth of $3.4 trillion, 46% of the Canadian total. 
The male-female wage gap has decreased to 12% from 27.5% in 2001. 
In 1976, 51% women ages 25–54 participated in the labour market. Today, that number has increased to 83%.
Let's take a look at some of the efforts in place to encourage more women to join the engineering workforce in Canada.
Women in Engineering Grants
Many female students who want to increase the percentage of women in engineering have a financial barrier they aren't sure how to cross. One form of assistance can come in the form of grants for conference travel and research travel, which uOttawa offers. These grants can help students complete their thesis projects by giving them the resources needed to visit sites or sources relevant to their fields of study.
Women in Engineering Scholarships
A host of foundations and corporations award scholarships to women who want to study engineering. EngineerGirl provides a helpful list that features scholarships across the financial spectrum—including full-tuition scholarships. Some scholarships simply apply to women in STEM, while others are as specific as video game design or aviation.
The Canadian Engineering Memorial Foundation also awards scholarships to women with the express goal of increasing the percentage of women in engineering. They state, "Despite the constant and ever-growing need for professional engineers in Canada, over half the population of potential future engineers aren't being engaged. By providing scholarship and networking opportunities, CEMF gives women in Canada the support they need to successfully pursue a career in engineering."
Women in Engineering Conferences
The Canadian Coalition of Women in Engineering, Science, Trades and Technology (CCWESTT) hosts conferences and speaker series as "Canada's premier national, nonprofit organization of groups, institutions and industries with a mission to expand the attraction, retention, and promotion of women."
The Society of Women Engineers has sections in several places in Canada, including Ottawa, Toronto, and Calgary. The SWE "connects and supports women engineers and engineering graduates in Toronto, enabling them to rise together as a community." According to the Toronto SWE section's webpage, "We encourage meaningful and engaging conversations through a series of meet-ups, speaker series, and workshops."
Member Alexis McKittrick told SWE, "To me, being a woman in engineering today is a promise. A promise to the future that we will work to inspire the next generation of engineers and improve diversity in STEM fields. A promise to myself that I will use my problem solving and analytical skills each day to advance and better our society. And a promise to my fellow SWE members that as we grow as a society and welcome more diverse perspectives into our community, that inclusion and integrity will always be our strengths."
Keep the Momentum Going with a Master of Engineering Management Degree
Ready to take your engineering career to the next level?
uOttawa's 100% online Master of Engineering Management (MEM) program could be the perfect next step. Designed for engineers who want to lead effectively and efficiently, the uOttawa MEM is the only program of its kind in Canada. It requires no GRE, GMAT, or on-campus residencies. The program offers three convenient start dates so working professionals can choose what works for them, and features a flexible, modular format.
Developed by uOttawa's Faculty of Engineering and the triple-accredited Telfer School of Management, uOttawa's online Master of Engineering Management degree program is an industry-oriented, leadership-strengthening educational experience.
Join the ranks of pioneering women in engineering with the Master of Engineering Management degree from uOttawa.