Thank you for being willing to submit a reference for a Telfer applicant!
Please follow the instructions below, and reach out to admissions@online.uottawa.ca with any questions.
1. Download and complete the Reference Form
2. Save the completed form locally to your computer
3. Email the completed form to admissions@online.uottawa.ca
Referees are only required to complete Section 2 of the form. Also, please kindly ignore the note in Section 2 of Page 1, of the reference form, that stipulates that the form should be physically mailed to our campus. At the very bottom of Page 2, you will be asked to electronically sign the reference form. If you have not yet created a digital signature, please follow the attached steps on how you can do that:
Step 1 – Please click on the sign button, in the upper right corner of the document's tab, as per the blue arrow in the screen capture below

Step 2 – From the Sign drop down menu, please select "Add Signature" as per the blue arrow.
Step 3 – You will then be able to type your name in the box provided, and then click "Apply"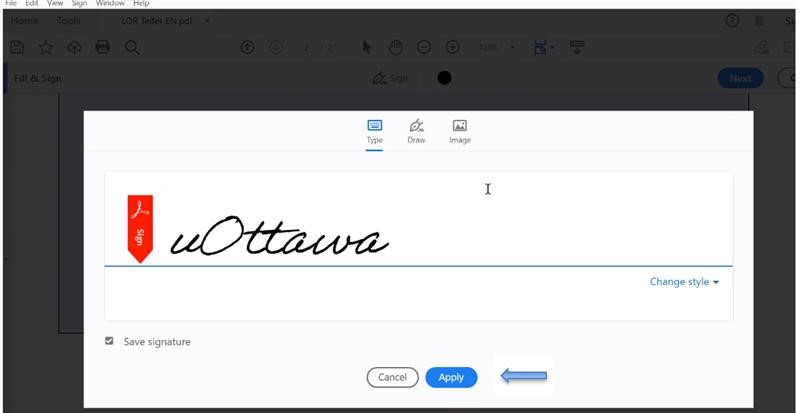 Step 4 – Your new digital signature should appear, and you will be able to drag it down to the signature box at the end of Page 2 of the document.